The nose tends to be a defining feature of masculinity. As such, it is important that patients select a surgeon who understands the male form and has vast experience delivering strong, defined results precisely tailored to achieve male appearance objectives.
Male patients seeking rhinoplasty for cosmetic purposes have very distinct goals. Unlike female patients, men don't want a petite, refined or feminine nose. Rather, they aim to achieve a strong, masculine nose that better suits their face, improves their overall appearance and delivers enhanced confidence. Dr. Sadati has over a decade of experience providing the precise results his male patients desire.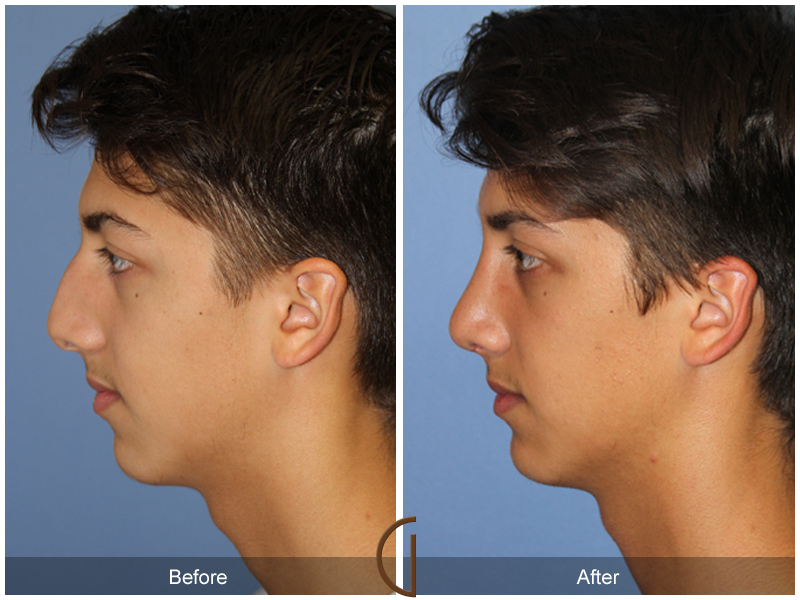 ---
Improved Function
Many of Dr. Sadati's male patients come to him not for appearance purposes, but for help with health complications due to a deviated septum or other physical abnormalities of the nose. In these cases, he is skilled at adjusting the patients' underlying nasal structure to provide relief and an improved quality of life without altering the appearance of the nose.
---
With over a decade of experience as a leader in the field of male rhinoplasty, Dr. Sadati has helped countless men achieve their appearance goals, recapture their youth and discover renewed confidence.
---
AN OVERVIEW OF THE PROCEDURE
Commonly performed under general anesthesia, Dr. Sadati will begin the procedure by making precise incisions, either inside the nostrils or on the outside of the nose. He will then raise the soft tissues of the nose and reshape the underlying nasal structure to accomplish the cosmetic objectives discussed during your initial consultation. From there, Dr. Sadati will redrape the soft tissue over the nose and close the incisions.
Depending on the complexity of your procedure, rhinoplasty can last anywhere from one to three hours. Immediately following surgery, you can expect to experience substantial nasal swelling and congestion. There will be a protective splint covering the nose, and you will return home to recover and allow the cartilage and tissues to heal. This initial recovery period should last about one week, at which point Dr. Sadati will remove the external splint to reveal your new nose.

Before & Afters
The best way to gauge a facial plastic surgeon's skill is to view his past work. Please browse our beautiful Before and After Gallery, which showcases the exceptional results of Orange County surgeon Dr. Sadati has achieved.
Male Rhinoplasty Before and After Pictures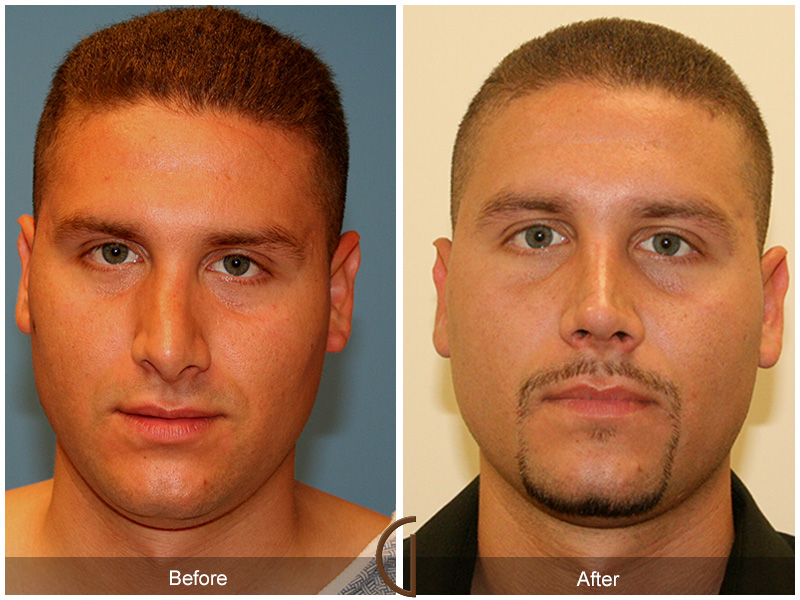 Although there will be an immediate and significant improvement in the shape and size of your nose, the final results can take up to twelve months to fully appear. During that time, the nasal swelling is continuing to subside, and the tissues are healing to reveal the genuine appearance of your new nasal structure. During the beginning stages of recovery, you will be advised to avoid strenuous activity, swimming, wearing heavy glasses and engaging in activities that may place additional stress on the nose. During your post-operative appointments, Dr. Sadati will advise you on when it is safe to resume rigorous activities.
---
CONSULTATION
If you are considering male rhinoplasty, your first step will be to meet with Dr. Sadati for a private consultation. During this meeting, Dr. Sadati will seek to understand your primary concerns and objectives regarding the appearance of your nose. Taking into consideration your age, ethnicity and overall goals, he will then thoroughly explain your options and compose a treatment plan designed to provide the precise cosmetic results you desire. Known for his compassionate and welcoming demeanor, Dr. Sadati will take the time necessary to address your concerns, answer your questions and ensure you feel comfortable and taken care of throughout treatment.
A leader in male rhinoplasty with countless successful procedures, Dr. Sadati is among the most qualified surgeons to give you the ideal, masculine nose you desire.
---
ABOUT DR. KEVIN SADATI
As a double board-certified surgeon and ENT specialist, Dr. Sadati is not only an expert in facial plastic and reconstructive surgery—he is also well versed in head and neck surgery. With this extensive knowledge in cranial structures, Dr. Sadati is fully qualified to expertly shape and refine the nose to deliver the precise cosmetic results you desire.