While traditional rhinoplasty addresses cosmetic concerns related to the nose, septoplasty corrects a functional issue called a deviated septum. The septum is the bone and cartilage that divides the nasal cavity of the nose in half. When a patient has a deviated septum, this structure is off center or crooked. This abnormality can contribute to a number of challenges, including breathing difficulties and chronic sinus problems.
An extremely delicate procedure, septoplasty requires an experienced and trained expert to ensure an optimal surgical outcome. As a leading facial plastic and reconstructive surgeon – as well as an ear, nose and throat specialist – few surgeons are more qualified than Dr. Sadati to correct among the most complex deviated septums and deliver immense physical relief.
---
Symptoms of a deviated septum
Patients suffering from a deviated septum experience a variety of uncomfortable physical symptoms that negatively impact their quality of life. Undergoing a septoplasty procedure with Dr. Sadati can provide long lasting relief from these physical challenges, including:
Difficulty breathing through one or both nostrils. In many cases, this may be more noticeable when you have a cold or allergies.
Nosebleeds. When one has a deviated septum, the structure often becomes overly dry. This phenomenon leads to an increase in nosebleeds.
Chronic sinus problems and recurrent allergies
Trouble sleeping through the night due to breathing difficulties, loud snoring and sleep apnea.
---
An overview of septoplasty
To begin the deviated septum surgery, or septoplasty, procedure, Dr. Sadati will administer general anesthesia to ensure the patient's comfort and safety. From there, he will make a precise incision on one side of the nose through which he will access the septum. Dr. Sadati will then lift the mucus membrane covering the septum before shifting the deviated area into its proper position. While some patients will need minimal nasal reshaping and repositioning to provide relief, others will require the complete removal of the deviated portion of the nasal bridge. If any obstructions are present such as extra pieces of bone or cartilage, they will also be removed. Once the deviated septum has been corrected, Dr. Sadati will reposition the mucus membrane and close the incisions.
Patients can typically return home the very same day to heal. In the days immediately following surgery, pain and swelling is to be expected and will subside as the healing process continues. To help manage any discomfort, Dr. Sadati will prescribe pain medication. In addition, patients are advised to elevate the head, avoid blowing the nose and avoid strenuous activities until the area has fully healed.
In terms of results, patients can expect to experience a marked improvement in breathing and symptom relief as the recovery period progresses. With countless patients breathing with ease and enjoying a higher quality of life, Dr. Sadati works to deliver safe and effective septoplasty, helping address and correct a deviated septum.

Before & Afters
The best way to gauge a facial plastic surgeon's skill is to view his past work. Please browse our beautiful Before and After Gallery, which showcases the exceptional results of Orange County surgeon Dr. Sadati has achieved.
Deviated Septum Before and After Pictures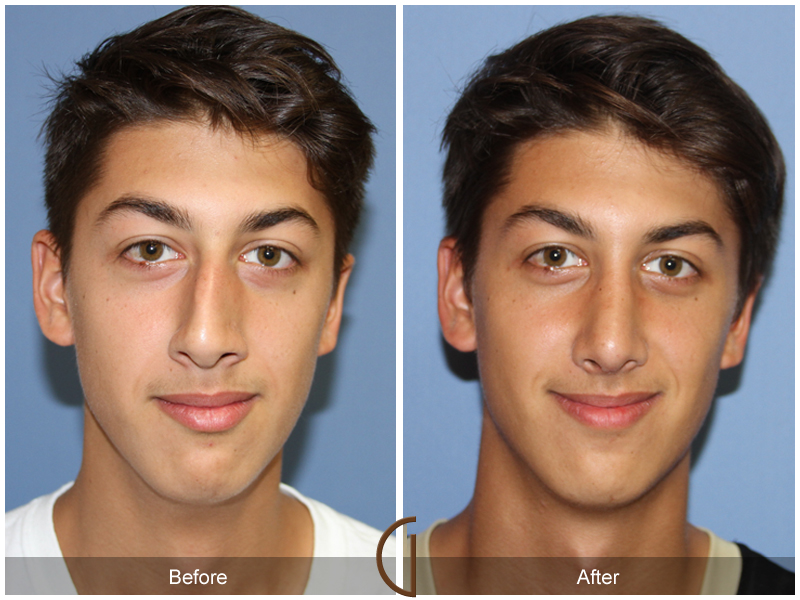 With countless patients now breathing effortlessly and comfortably, Dr. Sadati has earned a reputation for delivering high quality septoplasty.
---
Consultation
If you are considering septoplasty to correct a deviated septum, your first step will be to meet with Dr. Sadati for a private consultation.
During this meeting, Dr. Sadati will take the time to understand your symptoms, evaluate your nasal structure and thoroughly explain your treatment options. In the event that you would like to address both functional issues and aesthetic concerns, Dr. Sadati will compose a treatment plan that allows him to correct the deviated septum while also enhancing the cosmetic appearance of the nose.
A leading facial plastic surgeon and ENT specialist, with countless successful procedures under his belt, Dr. Sadati is considered one of best deviated septum surgeons around. He is among the most qualified surgeons to correct your deviated septum and provide long lasting relief from uncomfortable physical symptoms. Feel free to email or call him to answer any questions you might have about the surgery.
---
About Dr. Kevin Sadati
As a double board-certified surgeon and ENT specialist, Dr. Sadati is not only an expert in facial plastic and reconstructive surgery—he is also well versed in head and neck surgery. With this extensive knowledge in cranial structures, Dr. Sadati is fully qualified to address virtually any cosmetic or functional issue relating to the nose, face and neck.