An extremely delicate and precise procedure, upper eyelid surgery should only be performed by an experienced surgeon with extensive technical skill. As a leading facial plastic surgery expert with countless successful procedures, Dr. Sadati has developed a reputation for delivering high quality upper eyelid surgery, allowing him to reduce the signs of aging on the upper eyelids that concern his patients most.
---
AN OVERVIEW OF UPPER EYELID SURGERY
Upper eyelid surgery is an extremely effective way to treat the full scope of aging issues that affect the upper eyelids – including loose or sagging skin and deep lines and wrinkles.
To begin eyelid surgery, Dr. Sadati will administer local anesthesia with twilight sedation to ensure the patient's comfort and safety. From there, Dr. Sadati will make a precise incision within the natural crease of the upper eyelid, to ensure any resulting scars are well concealed. Through that incision, Dr. Sadati will separate the skin from the underlying tissues. He will then remove and reposition excess fat, reinforce the surrounding muscles and tendons, and reduce excess skin. Once Dr. Sadati has treated the signs of aging on the upper eyelids, he will close the incisions with very fine sutures to minimize scarring.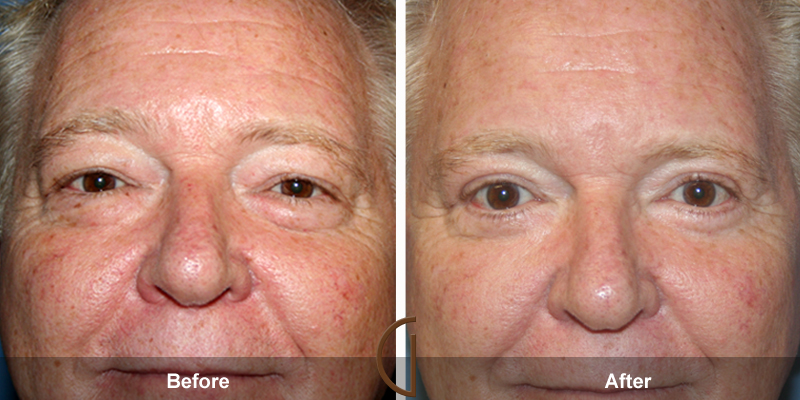 Immediately following the procedure, some temporary swelling, bruising and irritation is to be expected. To manage the discomfort, Dr. Sadati will prescribe pain medication and direct you to apply cold compresses and lubricating ointment to the treatment area. You will be advised to stay home from work, keep your head elevated and limit activities for several days following the procedure to ensure proper healing. In some cases, patients may experience dry eyes following eyelid surgery, however it is usually only temporary and should subside within two weeks. The final results of upper eyelid surgery will emerge within several weeks, and your vibrant and refreshed new look will last for years.
---
AM I A CANDIDATE FOR UPPER EYELID SURGERY?
As with all of his procedures, Dr. Sadati assesses eyelid surgery candidacy on an individual basis. Taking into account all aspects of the patient's history, motivations, objectives and expectations for surgery, he carefully determines whether an expertly performed eyelid surgery is in their best interest.
In general, a strong candidate for eyelid surgery should be a non-smoker in good general health without any serious eye conditions. Patients with dry eyes, hypothyroidism, Graves' diseases, high blood pressure or cardiovascular disease will be evaluated on an individual basis to determine if eyelid surgery is appropriate.
Additionally, the patient should possess realistic expectations for what eyelid surgery can accomplish. Although the procedure is extremely effective at removing excess skin from the upper eyelids, it will not treat crow's feet, dark circles under the eyes or sagging eyebrows. Each of those aging issues will need to be addressed with separate surgical and non-surgical treatment options.
To confirm that you are a strong candidate for eyelid surgery, you will need to schedule a private consultation with Dr. Sadati.

Before & Afters
The best way to gauge a facial plastic surgeon's skill is to view his past work. Please browse our beautiful Before and After Gallery, which showcases the exceptional results of Orange County surgeon Dr. Sadati has achieved.
Eyelid Surgery Before and After Pictures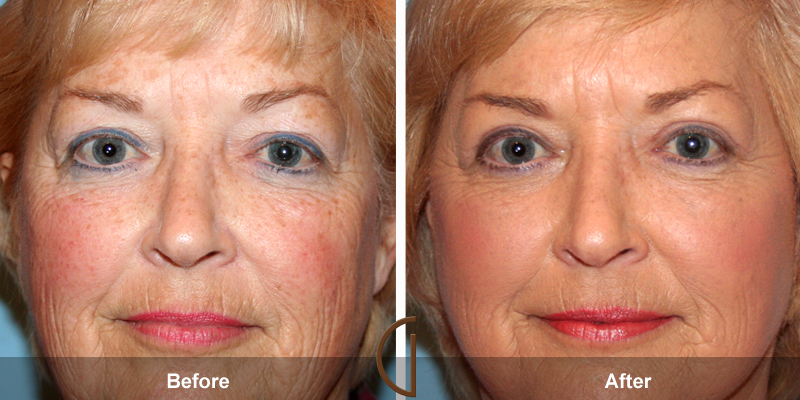 As we age, the upper eyelids tend to collect fat and excess skin, resulting in a tired or angry appearance. When this occurs, eyelid surgery is an excellent way to reduce the associated sagging skin and achieve a brighter and more refreshed overall appearance.
---
UPPER EYELID SURGERY CONSULTATION
If you are considering upper eyelid surgery, your first step will be to meet with Dr. Sadati for a private consultation.
During this meeting, Dr. Sadati will seek to understand your unique cosmetic objectives, before carefully evaluating your facial structure, eye shape and signs of aging. If he determines that you are a strong candidate for upper eyelid surgery, Dr. Sadati will then compose a treatment plan to reduce the signs of aging that concern you most and accomplish the refreshed, youthful look you desire.
Distinguished by his commitment to the highest level of personalized care, Dr. Sadati will take the time to address your concerns, answer your questions and ensure you feel comfortable and taken care of throughout treatment. A leader in the field of facial plastic surgery with countless successful procedures, Dr. Sadati has developed a reputation for delivering among the best eyelid surgery Orange County has available.
---
ABOUT DR. KEVIN SADATI
As a double board-certified surgeon and ENT specialist, Dr. Sadati is not only an expert in facial plastic and reconstructive surgery—he is also well versed in head and neck surgery. With this extensive knowledge in cranial structures, Dr. Sadati is fully qualified to address virtually any cosmetic or functional issue relating to the nose, face and neck.