April Special
Receive a complimentary DermaHeal Growth Factor Kit with any micro-needling treatment.
Contact us today for more information.
---
What is Micro-Needling?
Micro-Needling (also known as Collagen Induction Therapy) is a new innovation in aesthetic medicine that can help treat the appearance of fine lines, acne scars and the skin's overall appearance in minimal downtime.  The Eclipse MicroPen uses a sterile needle-tip containing 12 tiny micro-needles to create controlled micro-injuries to the skin. This initiates the skin's repair process to naturally produce collagen and elastin, ideal for smoothing fine lines, wrinkles, acne scars, traumatic scars, and stretch marks. Results can be enhanced by application of Platelet-Rich Plasma (PRP), growth factors, kojic acid, and hyaluronic acid.
What are the benefits?
The benefits of micro-needling can reduce appearance of:
Fine lines and wrinkles
Acne Scars
Hyperpigmentation
Dark Spots
Stretch Marks
Enlarged Pores
---
One of the top facial plastic surgeons Orange County has to offer, Dr. Sadati is renowned for his ability to restore the natural curves and contours of one's face and neck – resulting in a smoother, tighter and more youthful overall appearance.
---
What areas of the body can be treated?
Micro-Needling on all parts of the body; face, neck, decollete, arms, hands, legs, abdomen and back.
How long does the procedure take?
The procedure takes 15-30 minutes depending on the size of the area treated.
What does it feel like?
Micro-Needling feels similar to sandpaper being moved across the skin. Topical numbing may be applied prior to your procedure, but no anesthesia or medications are necessary.
What can I expect after a Micro-Needling procedure?
Immediately after the treatment the skin will be red and flushed, similar to a mild to moderate sunburn, it could last anywhere between 4 to 48 hours. You may also experience mild swelling, tightness, and/or mild peeling. Side effects are temporary and typically resolve within 3 days. Total healing time depends on the depth of the treatment, skin type, and skin condition, and some patients may heal completely in as little as 24 hours.

Before & Afters
The best way to gauge a facial plastic surgeon's skill is to view his past work. Please browse our beautiful Before and After Gallery, which showcases the exceptional results of Orange County surgeon Dr. Sadati has achieved.
Plastic Surgery Before and After Pictures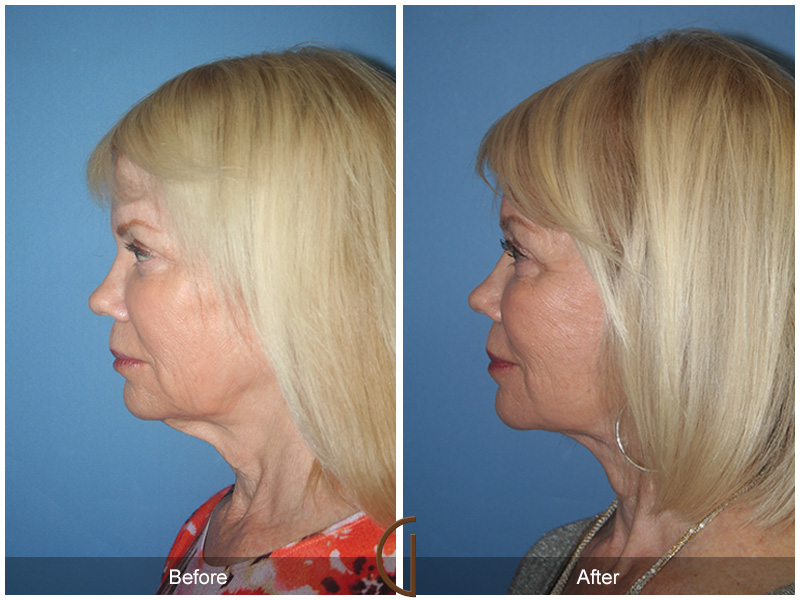 When will I see results?
Patients notice an immediate "glow" to their skin. Visible changes to the skin develop over the course of several days and weeks. Results continue to improve up to 6 months after the treatment.
How many treatments are needed?
Some patients only require a single treatment, once per year to achieve desired results. However, it is recommended for most patients to receive a series of 3-6 treatments spaced about 4-6 weeks apart. For patients with deep wrinkles, advanced photo-aging, stretch marks or acne scars, your skin care provider may recommend 6-8 sessions at 4 week intervals for optimal results.
---
Micro-Needling + PRP
Platelet Rich Plasma (PRP) Therapy. What is PRP?
Platelet Rich Plasma also known as the Vampire Facial, is a concentration of platelets in the blood that are crucial to wound healing. When used for skin rejuvenation, PRP releases growth factors into the skin to expedite the body's own repair process and stimulate new collagen and elastin leaving you with fuller, tighter, younger looking skin.
---
What does the procedure entail?
A small blood sample is taken from your own body and the PRP is separated from the other components. The PRP is then topically applied to the skin immediately following a micro-needling procedure. The micro-channels created by micro-needling provide direct pathways to the deeper layers of skin for optimal wound healing. Micro-needling with PRP application is an ideal treatment for smoothing fine lines, wrinkles, and scars or even increasing plumpness and overall rejuvenation of the skin.