While a traditional facelift involves making long lasting changes to the skin and its underlying tissues, a liquid facelift uses temporary dermal fillers to add volume and smooth out the appearance of fine lines and wrinkles. With immediate results and no downtime, this non-invasive facial rejuvenation procedure is ideal for patients who aren't ready to commit to surgery, but still want to achieve a refreshed, more youthful appearance.
Although a liquid facelift is significantly less risky than a traditional facelift, it still requires an expert's touch—preferably a specialist in the field of facial plastic surgery. Guided by his years of experience, uncommon attentiveness to detail and unique artistic eye, Dr. Sadati is known for his ability to use dermal fillers to treat the signs of aging that concern his patients most while ensuring a natural outcome.

Before & Afters
The best way to gauge a facial plastic surgeon's skill is to view his past work. Please browse our beautiful Before and After Gallery, which showcases the exceptional results of Orange County surgeon Dr. Sadati has achieved.
Liquid Facelift Before and After Pictures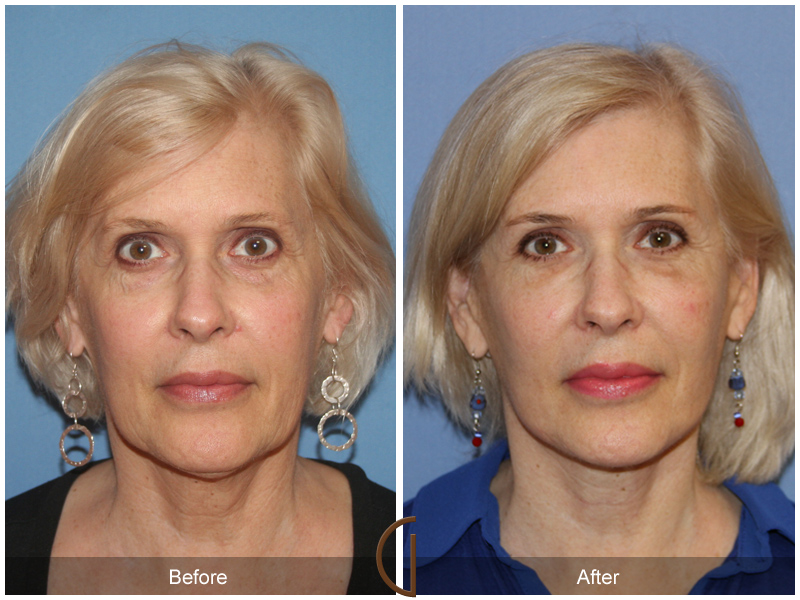 In addition to his exquisite traditional facelift results, Dr. Sadati has also perfected the art of the liquid facelift. Guided by his unmatched technical skill and exceptional artistry, Dr. Sadati expertly injects temporary dermal fillers to treat fine lines, wrinkles and sagging skin without the risks and recovery associated with invasive surgery.
---
A NON-INVASIVE APPROACH TO TREAT THE SIGNS OF AGING
Previously, patients who desired a younger appearance needed to undergo a traditional facelift. Now, they have access to a non-invasive procedure that provides a gentle lift and effectively treats common signs of aging -- including jowls, wrinkles and sagging skin around the eyes, forehead and cheeks.
---
HOW LONG WILL THE RESULTS LAST?
While the liquid facelift provides a refreshed, more youthful appearance, the results are not long lasting. The outcomes of a liquid facelift last several months, depending upon the dermal filler used. At that time, your body will gradually break down the filler in a uniform manner and your face will slowly return to its original state. Due to the temporary nature of the results, regular touch-ups are required to maintain your new, youthful appearance.
Although liquid facelift outcomes are temporary, for many patients the pros of a noninvasive procedure outweigh the cons of short-term results and regular touch-ups.
---
LIQUID FACELIFT CONSULTATION
If you are considering a liquid facelift, your first step will be to meet with Dr. Sadati for a private consultation.
During this meeting, Dr. Sadati will seek to understand your unique needs and cosmetic objectives, before thoroughly evaluating the signs of facial aging that concern you most. From there, he will explain your surgical and non-surgical options and help you determine if a liquid facelift can achieve your appearance goals. Known for his compassionate and welcoming demeanor, Dr. Sadati will take the time necessary to ensure you are completely comfortable with and educated on the procedure before moving forward.
A leader in the field of facial plastic surgery with countless successful procedures, Dr. Sadati is among the most qualified specialists to apply advanced surgical and non-surgical treatment options to deliver the youthful glow you desire.
---
ABOUT DR. KEVIN SADATI
As a double board-certified surgeon, Dr. Sadati is not only an expert in facial plastic and reconstructive surgery—he is also well versed in head and neck surgery. With this extensive knowledge in cranial structures, Dr. Sadati is fully qualified to safely and discreetly reduce signs of aging on the face to deliver a refreshed, rejuvenated appearance.