With years of experience and countless successful procedures, few surgeons are more qualified than Dr. Sadati to perform the delicate procedure that is rhinoplasty. In addition to his technical expertise, Dr. Sadati is committed to delivering the highest level of personalized care and ensuring his patients feel completely comfortable and taken care of throughout treatment.
---
FACTORS THAT INFLUENCE RHINOPLASTY COST
A variety of factors influence the final cost of a rhinoplasty procedure. Knowledge of these factors provides insight into why the most experienced, trained and knowledgeable surgeons tend to require a larger investment.
SURGEON FEE
The surgeon fee comprises the majority of your rhinoplasty investment. While a less experienced surgeon may require smaller fees, they may also deliver subpar results. In extreme cases, you may even require an additional rhinoplasty revision procedure to correct the inadequate work of a previous surgeon.
A renowned specialist in facial plastic and reconstructive surgery, Dr. Sadati, may require a larger fee, but discerning patients find that the exquisite, safe and long-lasting results are well worth the investment.
FACILITY FEE
The facility where the procedure is performed also has a significant impact on the cost of the surgery. For example, a hospital is the most expensive place to undergo cosmetic surgery while an in-office procedure is the least expensive option. Always conscious of his patients' financial and safety concerns, Dr. Sadati prefers to work in surgical centers. In addition to being moderately priced, these facilities provide a safe, clean and healthy environment.
ANESTHESIOLOGIST FEE
The type of anesthesia used will also influence the cost of your rhinoplasty procedure. General anesthesia is the most expensive option and is used in the majority of cosmetic surgeries. Twilight anesthesia is a less expensive alternative and can be used in very specific cases. During your consultation, Dr. Sadati will advise you on the appropriate anesthesia type for your procedure.
THE COMPLEXITY OF THE OPERATION
The overall complexity of the procedure also affects the final cost of rhinoplasty because it impacts the length of the surgery. For example, a relatively quick, simple nasal refinement will cost significantly less than an intricate revision procedure that could take upwards of several hours to complete.

Before & Afters
The best way to gauge a facial plastic surgeon's skill is to view his past work. Please browse our beautiful Before and After Gallery, which showcases the exceptional results of Orange County surgeon Dr. Sadati has achieved.
Rhinoplasty Before and After Pictures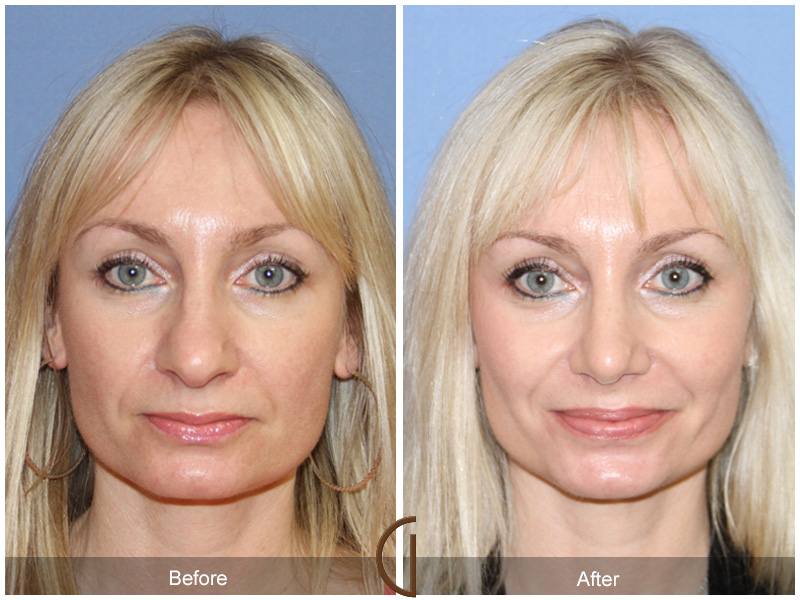 ---
RHINOPLASTY CONSULTATION
If you are considering a rhinoplasty procedure, your first step will be to meet with Dr. Sadati for a private consultation.
During this meeting, Dr. Sadati will discuss your objectives, evaluate the cosmetic issues that concern you most and compose a treatment plan to achieve your desired results. From there, he will take the time necessary to ensure you are completely educated on the procedure and comfortable with the investment before moving forward.
With countless happy and beautiful rhinoplasty patients , Dr. Sadati is among the most qualified surgeons to give you the nose you desire and accomplish your appearance goals.
---
ABOUT DR. KEVIN SADATI
As a double board-certified surgeon, Dr. Sadati is not only an expert in facial plastic and reconstructive surgery—he is also well versed in head and neck surgery. With this extensive knowledge in cranial structures, Dr. Sadati is fully qualified to expertly shape and refine the nose to deliver exceptional cosmetic and functional results.